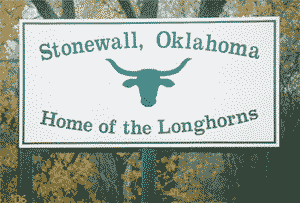 First American Bank offers the services of a financial institution while maintaining the integrity of a community bank where decisions are made locally. First American Bank takes pride in having served our community since the early 1900's when Stonewall, Oklahoma was still Indian Territory. In the 1930's this bank was robbed by Pretty Boy Floyd. This is a topic of interesting conversation with some of the citizens of this area as they reminisce.

First American Bank is locally owned and operated, with the express commitment of service and leadership to the citizens of the Stonewall area.

If we can help you with your banking needs, please don't hesitate to contact us in person or by phoning 580-265-4222. We are FDIC insured and AN EQUAL HOUSING LENDER.


First American Bank wants to be your bank. We are committed to serving your banking needs in a way only a home town bank can do.

Notice Of Expiration Of The Temporary Full FDIC Insurance Coverage For Noninterest-Bearing Transaction Accounts
---
By operation of federal law, beginning January 1, 2013, funds deposited in a noninterest-bearing transaction account (including an Interest on Lawyer Trust Account) no longer will receive unlimited deposit insurance coverage by the Federal Deposit Insurance Corporation (FDIC). Beginning January 1, 2013, all of a depositor's accounts at an insured depository intuition, including all noninterest-bearing transaction accounts, will be insured by the FDIC up to the standard maximum deposit insurance amount ($250,000), for each deposit insurance ownership category.
For more information about FDIC insurance coverage of noninterest-bearing transaction accounts, visit:
http://www.fdic.gov/deposit/deposits/unlimited/expiration.html